The Custom Clothing Experience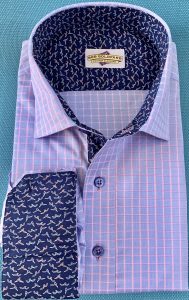 Bob Goldfarb Custom Clothing services each client's wardrobe needs and desires in the convenience and privacy of their home or office, saving them valuable time to enjoy family & personal pleasures. No need to spend time in a store or mall.
                         A Typical Client Visit
First, we begin with an initial consultation with the client to understand their business & casual clothing needs, desires and lifestyle. Appointments typically require 1-2 hours of time.
For clothing, we select from the world's finest luxury and performance fabrics from a wide array of options. Selections include solids, textures and patterns hailing from the finest mills around the world. At Bob Goldfarb Custom Clothing, we import our fabrics from Italy, England, Australia, Japan and Asia from manufacturers including Drago, Reda, Marzoni, Vitale Barberis Canonico, Carlo Barbera, Loro Piana and Dormeuil.
Next, we select the client's preferred features of each unique garment including collars, lapels, pockets and linings, as well as customized options for buttons, buttonholes, accent pic stitching and monogramming.
For shirting, the process is largely the same, with selections of collars, cuffs, pockets, plackets, buttons, and stitching for buttonholes and monogramming.
After designing, our clothiers will then measure more than 30 precise places to produce the best fit depending on your body type and preferences. We then take two sets of 4-way photos of the client in a shirt and then a jacket to better understand the client's body shape, posture, chest, shoulder line, neck, arm position and seat.
Then the tailors take over, crafting and tailoring each client's unique designs into a finished product with extreme attention to detail, skill and care. There is an art to crafting a fine fitted, custom-tailored garment, so we quote an 8-week turnaround for clothes and a 5-week turnaround for shirts.
When the garments are completed, our clothiers again visit the client to deliver for the first fitting. Sometimes it is necessary to make minor adjustments to these garments to deliver and achieve overall satisfaction. Once confirmed, these measurements can be used to make future garments.
Our client's satisfaction is our No. 1 Goal! Bob Goldfarb of Bob Goldfarb Custom Clothing