The "Bob" in Bob Goldfarb Custom Clothing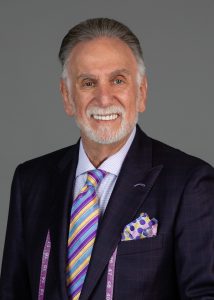 Raised in The Bronx, NY, Bob began his affinity for dressing well at an early age. As a child, he would spend many Saturdays at a higher-end men's clothing store, owned by his dad's friend, watching and learning about style and fit. With his appreciation of clothing, Bob's first job in clothing was working for Sym's clothing store where he learned to appreciate the two most important things about clothing: fit and fabric.
As Sy Syms said, "An educated consumer is our best customer!"
Bob didn't pursue a career in clothing, opting instead in 1978 to have a career in executive recruiting, focusing on the highest levels of Silicon Valley technology, starting his own recruiting firm in 1982. With a continuing passion for clothing, and interacting with C-Level executives, Bob always "dressed for success," wearing the finest suiting, shirts and shoes. In early 2004, due to a collapse of the technology industry, Bob closed his practice.
An educated consumer is our best customer!
— Sy Syms of Syms Clothing Store in The Bronx, NY, and Bob Goldfarb's first boss & mentor.
With a free spirit and desire to do something he was passionate about, starting in 2004, Bob worked for Nordstrom in sales and then Men's Department Manager in Miami and Palm Beach, and then Bloomingdales in the same role, later working in the shoe business.
In 2014, Bob's entrepreneurial spirit got hold of him and he started Bob Goldfarb Custom Clothing. Bob is a certified clothier/fitter.
Awards, Accolades & Community Involvement
Bob is strongly committed to his community with membership in many chamber, business and civic organizations. He has a strong desire to give back and volunteers for multiple nonprofit organizations. Bob and his custom clothing business are award-winning, and his involvement in the community, he says, "sometimes takes as much or more time and energy than maintaining my business."
AWARDS
2021, 2022 & 2023 Voted three times by Readers of the Palm Beach Post as Best of the Best Men's Clothier in Palm Beach County
2019   Chamber of the Palm Beaches Small Business of the Year Award
2021 President's Award by the Executives Association of the Palm Beaches
2017/18 Palm Beach North Chamber's Ambassador of the Year Award
2020 Volunteer of the Year for nonprofit organization Place of Hope
2006 All-Star Recognition by Nordstrom
MEMBERSHIP
Palm Beach North Chamber
Chamber of the Palm Beaches
Palm Beach Chamber
Forum Club of Palm Beach
Business Development Board of Palm Beach
Executives Association of the Palm Beaches
Leadership Palm Beach County
PGA Corridor Association
Leadership Business Council
Red Meat Lover's Club
BOARDS & ADVISORY
2023 President of the Executives Association of the Palm Beaches
Palm Beach North Chamber Foundation
West Palm Beach Police Athletic League
Place of Hope Advisory Council
NONPROFIT ORGANIZATIONS
Place of Hope
Hanley Foundation
West Palm Beach Police Athletic Association
Jewish Federation Business & Professionals Cabinet
American Cancer Society
Real Men Wear Pink Campaign